COVID19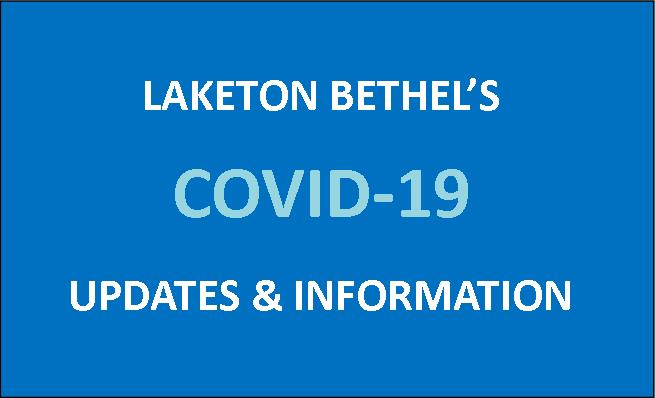 We will have in-person worship services on Sundays. We are returning to two services on March 28th. The classic style is at 9:00 am and the alternative style is at 11:00 am. You may view the videos on Facebook, YouTube and here on our website page.
News from Children and Youth Ministry
We are excited to announce that we are scheduled to be re-opening Children's Church for Preschool — 5th Grade on April 25th. We would like the children to be pre-registered. You can register online by clicking here
The Children and Youth Ministry team really miss the direct face to face contact with our children and youth groups. Until we can come back together safely, we will produce, email out and post virtual lessons (8-12 minute videos) on our Laketon Bethel Kids & Youth Facebook page.
Additionally, we have activity and coloring pages that will be sent electronically through email to all families that we have on file within the Children's Ministry Program. If you would like us to send hard copies of these activity and coloring pages that go with the virtual lesson using the postal service, please contact or email Tina by calling 744-1749 or email her at lbrcoffice@gmail.com
The Nursery will not be staffed but will be used as a cry room and changing station. Please do not enter if anyone in your household has had a fever over 100,4 in the last 24 hours.
Laketon Bethel Children Ministry Team
Miss Jackie, Miss Lorri, Miss Ashley, Miss Tina and Mr. Mike