COVID19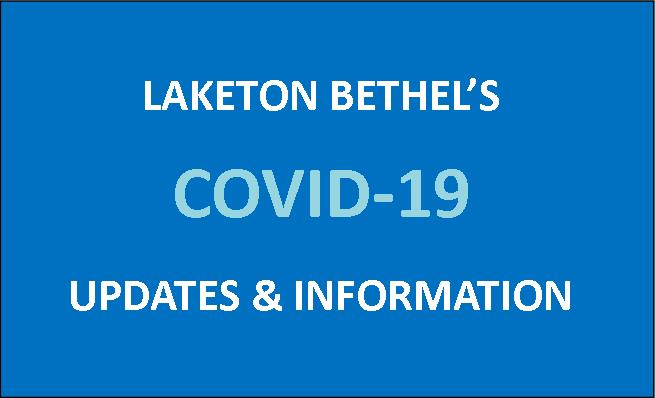 We are back to having in-person worship services on Sundays. We returned to two services on March 28th. The classic style is at 9:00 am and the alternative style is at 11:00 am. You may view the videos on Facebook, YouTube and here on our website page.
News from Children and Youth Ministry
We are excited to announce that we are scheduled to be re-opening Children's Church for Preschool — 5th Grade on April 25th. We would like the children to be pre-registered. You can register online by clicking here
Check out our Laketon Bethel Kids & Youth Facebook page!
Beginning in May, the Youth Group will be meeting once a month throughout the summer to reconnect, have some fun outside, grow in fellowship with one another, and explore our spiritual relationship with God.
Below are our tentative meeting dates for your reference:
Sunday, May 23rd - Summer Kick Off: Cookout/Game day @ Mullaly Park
Sunday, June 27th - TBA
Sunday, July 25th - TBA
Sunday, August 22nd - TBA
Mark your calendars, invite your friends, and keep an eye out for updates in church bulletins and your email as we continue working on planning these fun, safe, and engaging summer activities.
Parents, due to COVID-19 safety precautions, please be advised that ALL children and youth will be required to have a simple "pre-registration" form filled out by a parent/guardian before participating in activities or events. This form can be accessed and filled out easily online or a physical copy may be picked up at the church. To register for Preschool – 5th Grade click here and for 6th – 12th Grade click here.
The Nursery will not be staffed but will be used as a cry room and changing station. Please do not enter if anyone in your household has had a fever over 100.4 in the last 24 hours.
Laketon Bethel Children Ministry Team